Summer Hamper Raffle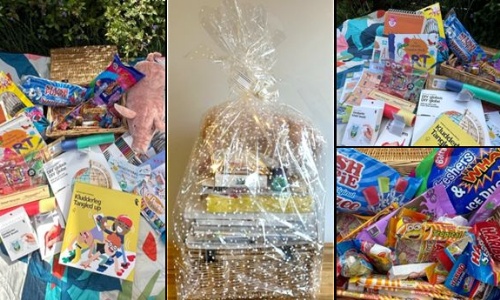 We're ending the school year on a high, with a sensational summer raffle...
We're ending the school year on a high, with a sensational summer raffle. One lucky winner will snag the biggest single pile of prizes we have ever given away in a raffle in Compton history!
The prize is a Holiday Hamper. It's a whopping parcel, stacked high with 75 incredible items that give you everything you need to keep children occupied over the summer holidays.
It's just £1 per ticket – and you can buy up to 5 tickets. You have until 9am on Thursday 20th July. The draw will be made the same day and the winner notified. The hamper will be sent home on Friday 21st.
Raffle tickets are on sale as of NOW on ParentPay. By ordering on ParentPay, entering the raffle couldn't be easier… no need for cash, no printed tickets, no raffle stubs to lose!
Take a look at what we're giving away to ONE winner:
HOLIDAY HAMPER… A SNEAK PEEK INSIDE!
Toys & Games:
Pig cuddly toy
LEGO Dots frame set
Tangled up/Twister game
Pick-up sticks game
Water Beads kit
2 water pump garden/beach toys
2 cress head seed packs
Magic Twisty Worm toy
Reading Challenge and Car Bingo activity sheets
Art & Crafts:
Paint and build wooden globe
Usborne Complete Book of Art Ideas
Art for Kids book
100-page Activity Book
Elephant sketch and shade set
Scrap Book Kit
Metallic coloured pencil set
Oil Pastels set
4 large glitter glues
Paint brushes
Paintbrush stand
Daler Rowney jumbo sketching book
Sweets & Snacks:
30 packs of treats, including Kinder bars, bags of Haribo, Freddo and Bear Yoyos
8 Refresher & Wham bar ice poles
10 Slush Puppie ice poles
Plus a wicker hamper to keep your creations, art materials, or secret stash of sweets in!
Thanks in advance for your support – all profits go to Compton School Association, which is a volunteer-run registered charity that helps to fund school trips, runs activities to make school life even better for Compton children, and provides a helping hand to families who need it.
Head to ParentPay and grab your tickets – we wish you lots of luck!

END OF YEAR ROUND-UP:
Next week, we look forward to sharing a round-up of the money we've raised, the events we've run, and the activities we've supported during this school year. The raffle is our one last push to raise some final funds!